CALL FOR SPEAKERS MICROENCAPSULATION EUROPE
Brought to you by: Bioactives World Forum
Save the Date: December 4-5, 2019!
Ready to share your knowledge with others in the industry?
Nothing will set you apart more than presenting at the 2019 Microencapsulation Summit Forum. The Forum is currently seeking subject matter experts to present the most current information and insights on new technology, research, trends, applications, and best practices.
• Microencapsulations in the Food, Beverage Dietary Supplement and Pharma
• Materials Used in Microencapsulation
• Particle Size Characterization
• Microencapsulation Technologies
• Microencapsulation of Flavor Ingredients
• Agglomeration & Blending
• Alginate Encapsulation
• Prilling & Screening
• Spray Drying & Wurster Coating
• Jet Milling / Bead Milling
• Analytical & Quality Assurance Methods Used in Microencapsulation Flavor Encapsulation
• Starch and Gum Acacia for Encapsulation
• Coacervation and Chemical Processing
• Various Controlled Release Processes
• Alternative Coatings
• Use of Nanoencapsulation Technology
• Encapsulation of Hydrocolloids
Become A Sponsor
A sponsorship at the forum gives you the chance to increase you r brand awareness and meet with
industry decision makers.
• Extend your message and reinforce your brand.
• Meet Face-To-Face with your target audience.
• Maintain business relationships with prospective and existing clients.
• Exhibit your latest products and services.
Leverage your company's brand and heighten visibility of products and services in front of your
target audience!
Space is limited – Contact Your Sales Representative or visit www.microencapsulation-summit.com
to learn more about sponsoring or exhibiting at the 2019 European Forum.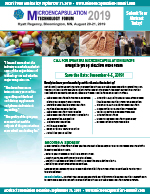 Information for Speakers:
Abstracts should be a maximum of 100 words.
Speakers are required to submit presentations in pdf format for distribution to all registered attendees.
Presentations should reflect the highest professional standard. The use of trade names and company advertising is greatly discouraged.
Presentations should be highly technical and contain data showing, problem, proposed solution, final results and take home messages
Important Deadlines:
Submission of abstracts:

September 31, 2019

Notification of acceptance:

Within 5 business days from submission
Submission of completed presentation:

November 4, 2019